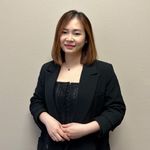 Tina Nguyen
Administrative Assistant
A little bit about me...
Tina is the Asministrative Assisstant of Ask Magis Realty Group powered by Keller Williams Signature Realty.
Tina started in the field of real estate since February 2022. Tina used to work at CVS pharmacy and to change from this to real estate was a big change for her. Everything was new to her but as she meet new people and learn more about real estate, she enjoys her time more in this field and helping people getting their perfect dream home.
Tina is a kind and thoughtful person. Tina speaks less, but listens more. Moving to Houston in 2009 from Saint Paul, Minnesota, Tina explores herself in love with exploring the beauty of nature here and there and working with different people. Tina enjoys time alone watching movie and eating good food. She also loves traveling and learning about different cultures.